There is a huge abyss between investing in real estate and buying real estate, in "FORTUNA INMOBILIARIA" / FORTUNA REAL ESTATE, working from Villa General Belgrano province of Córdoba, we focus on excellence with real knowledge of the market situation, with honesty, integrity and professional seriousness, always with legal protection in every operation. With dynamism, agility, permanent innovation with the ability to analyze and adapt to the market and to each client.
Always providing business ethics and working with passion to not sell you anything but to help you buy!
We are leaders in the purchase, sale and real estate administration of the Calamuchita Valley area.
Our portfolio has, in Real Estate concept, more than 1500 published and unpublished properties that are privately and exclusively marketed of undertakings, developments, projects and investments, offering them purchase-sale, permanent rental and temporary rental operations, in properties such as houses, apartments, urbanizations, housing, private neighborhoods, cabins, complexes of cabins, inns, hotels, apartments, stores, land, lots, fields, farms, hectares and fractions with unique business opportunities.
Served by qualified competent registered professionals, our experience provides the security to sell, buy or rent a unique and special property.
If you sell, your property is promoted by experts who will implement actions such as media advertising and promotion for the operation to be successful.
Investment in real estate is not devalued, it always grows, investing in the real estate market remains one of the most lucrative and safe investments.
"Fortuna Inmobiliaria" / Fortuna Real Estate has coverage in the main towns of the Calamuchita Valley, Córdoba province: such as Villa General Belgrano, Los Reartes, Ciudad Parque Los Reartes, Ciudad América, Potrero de Garay, San Clemente, Athos Pampa, Intiyaco, Villa Berna, Villa Alpina, La Cumbrecita, Quebrada del Yatán, Yacanto de Calamuchita, Pinar de los Ríos, El Durazno, San Miguel de Los Ríos, Santa Rosa de Calamuchita, Villa Rumipal, Villa del Dique, Embalse and others.
Through our website www.fortunainmobiliaria.com you can contact our team of registered professionals who will provide you with the best real estate services. Since there are a variety of factors to consider when taking the first step towards investing in Real Estate, is that you must operate with the best: in "FORTUNA INMOBILIARIA" / FORTUNA REAL ESTATE we know very well what it is about, we have clear objectives and increasingly high goals!
The registered professionals of "FORTUNA INMOBILIARIA" / FORTUNA REAL ESTATE think differently. What distinguishes Cristina Piazza, Roxana Riera Rivera and Bernardo Uasuf is not only what they do differently but how they do it, the entrepreneurial approach drives them to offer real estate solutions with exceptional results. Adding value to the real estate market for each client anytime, anywhere.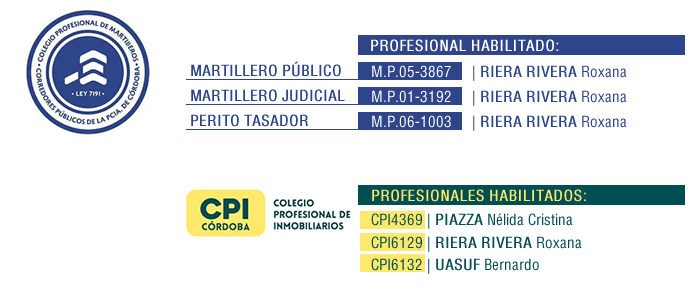 Con un concepto bien definido:
"Queremos atenderte durante toda la vida".
WHY CHOOSING US?
OUR SERVICES in REAL ESTATE:
Staff of registered professionals
Property Marketing
Investment services
Real estate administration
Contract administration
Fourth revolution contracts, real estate tokenization. Bitcoin, Ethereum, YTC and other cryptocurrencies
Project management
Representation of owners and / or users
Corporate solutions
Management procedures for your operation
100% management of your barter
Business Conference at your disposal in strategic places
Website adapted to all devices
24-hour advertising on all appropriate social media and portals
We use the latest technologies in marketing
Financed appraisals for your property
Agrimensura Legal
Consultoría
We strive daily to be better and to outdo ourselves, you always arrive to the top surpassing yourself.
---
+ INFO